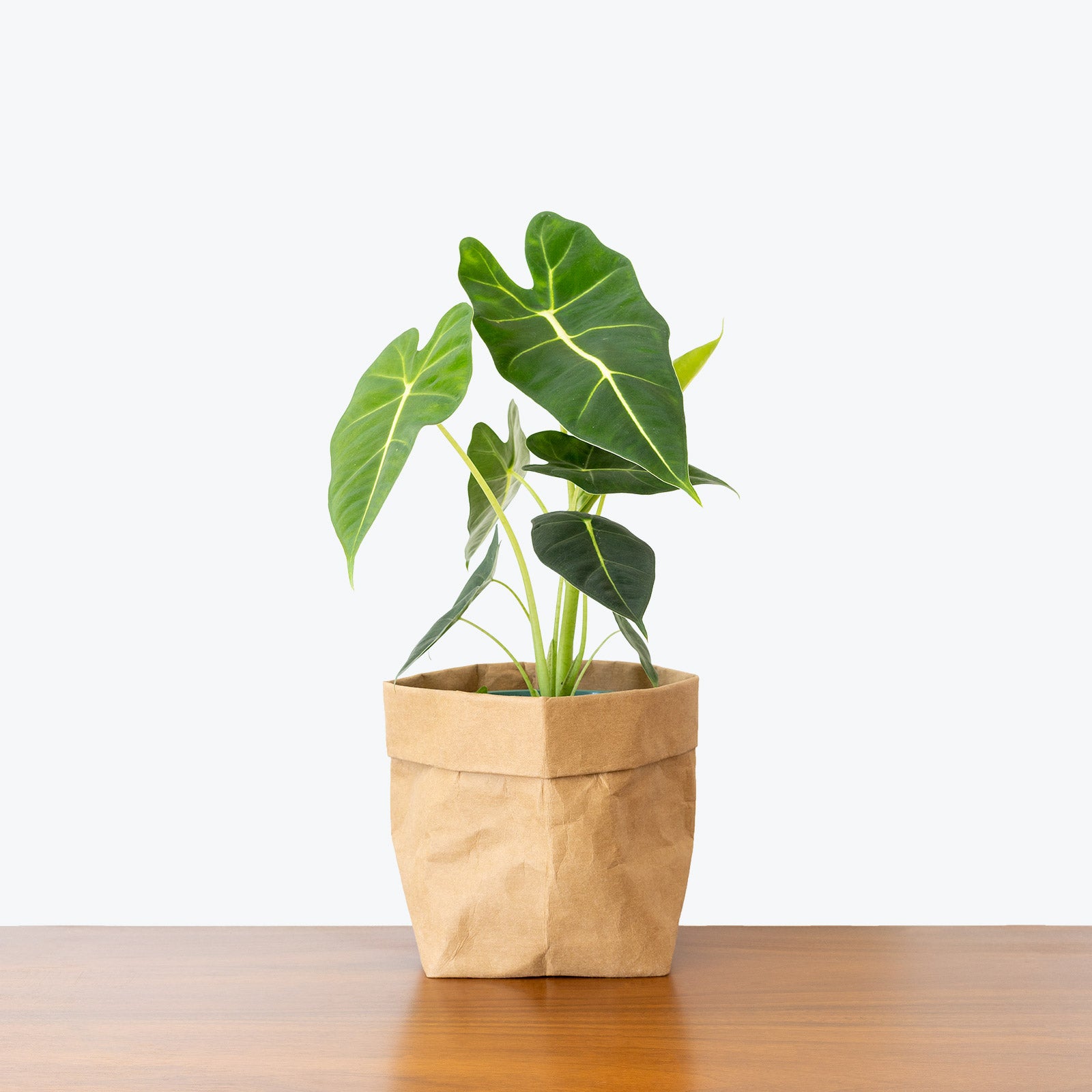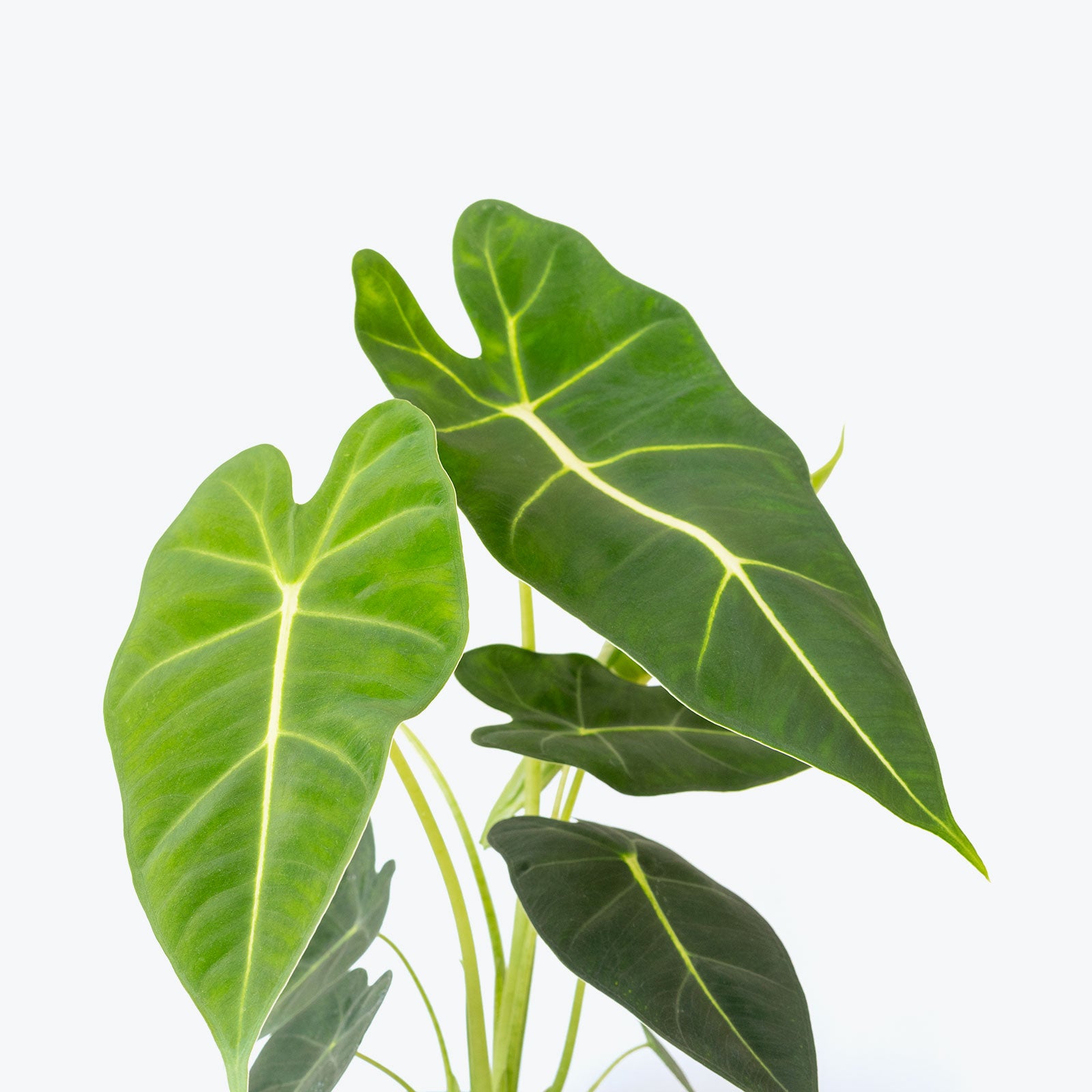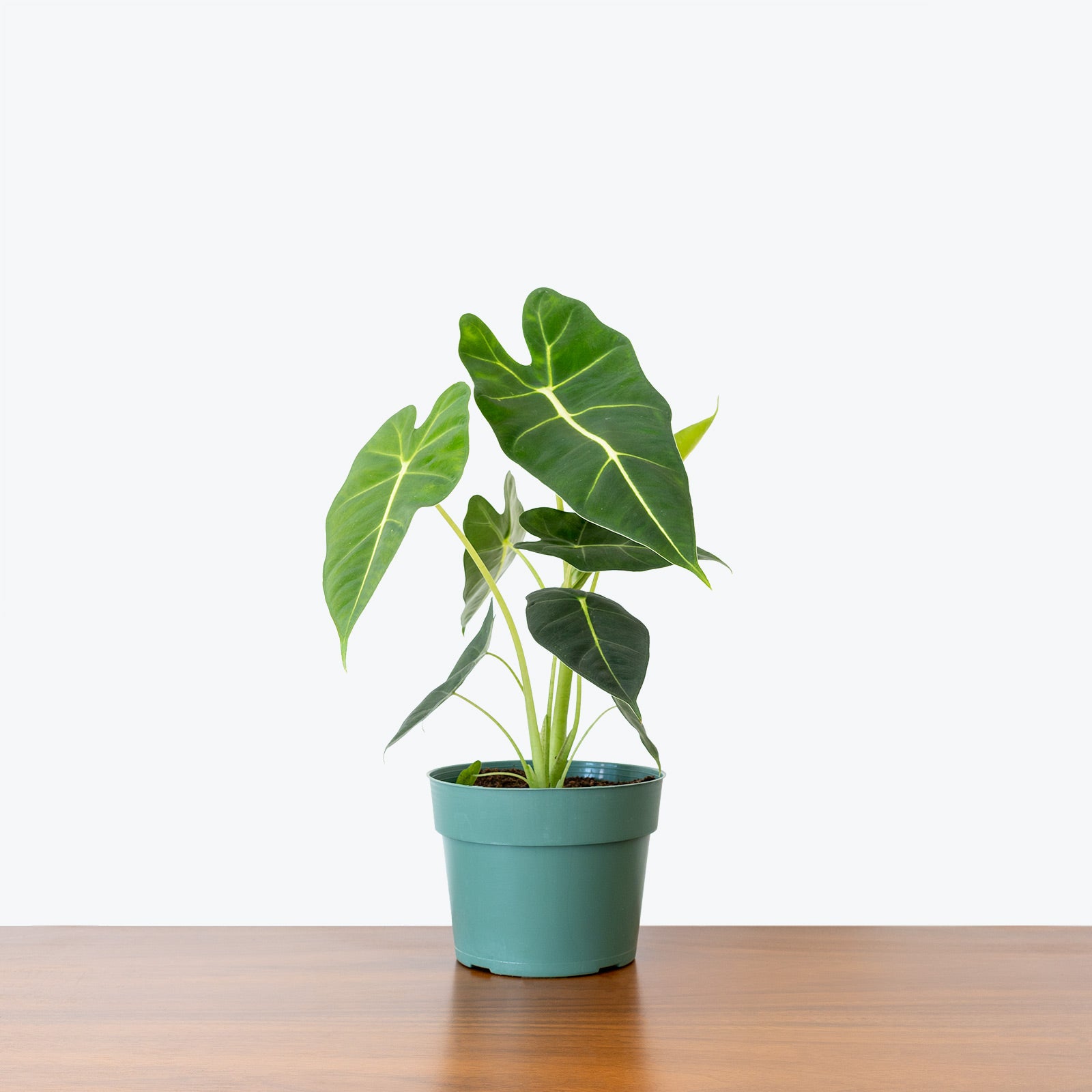 Alocasia Frydek
Sale price

$15
Regular price
(/)
Klarna
Plant now, pay later with 4 interest-free payments for orders above $10
Buy what you love and split the cost. It's easy and interest-free.
Add item(s) to your cart.
Go to checkout and choose
Enter your debit or credit card information.
Your first payment is taken when the order is processed and the remaining 3 are automatically taken every two weeks
Please note that a higher initial payment may be required for some purchases. Pay later in 4 terms available here. For Quebec residents these Pay later in 4 terms are applicable.
Alocasia Frydek, aka Alocasia 'Green Velvet', scientifically known as Alocasia micholitziana 'Frydek', is a unique and rarer variety of Elephant Ear. Its velvet dark green leaves are shaped like an arrowhead with highly defined and contrasting silvery green veins. They are a little bit temperamental but mainly require a highly humid environment. Along with other Alocasia, this plant is toxic to both people and animals, so they are not to be ingested.
The plant comes with a default nursery pot. The nursery pot is usually 0.5" - 1" smaller than stated to fit into the same size decorative pot. Washable Paper Planter Bags are sold separately.

As with all living things, no two plants are alike. There is some natural variation in size, shape, and characteristics. We make every effort to bring you a plant that as closely as possible matches the plant as it appears on our website, in the size you have chosen, and have a good potential to happily grow in your home.
All of our deliveries are carbon neutral.

In store shopping and free local pick up available at our store located at 21A Bathurst St, Toronto.

Free local delivery* available within City of Toronto and surrounding areas including Mississauga, Brampton, Vaughan, Richmond Hill, Markham, and Scarborough.

Shipping options are available for plants and planters that are 7" or smaller to all provinces in Canada.

Shipping

Local Pickup and Shop In-Store

Local pick up and shop in-store in Toronto

Local Delivery

Yellow: Toronto Delivery (Free over $75)

Yellow zone: Toronto Core. $15 for orders under $75. Free for orders over $75 before tax and after discount.
Usually delivered within 2 - 4 days excluding the purchase date. Delivery timelines subject to change during holidays.

Next day delivery is also available at checkout.
Order before 10 PM EST, deliver next day by end of the day (No deliveries on Monday).

Green: GTA Delivery (Free over $125)

Green zone: Oakville, Mississauga, Brampton, Vaughan, Richmond Hill, Markham, and Scarborough.
$15 for orders under $125. Free for orders over $125 before tax and after discount.
Usually delivered within 7 days excluding the purchase date. Delivery timelines subject to change during holidays.

Delivered with care

All of our plants are delivered by our human plant expert in person(contactless during COVID-19). We will send you a delivery confirmation once your delivery is scheduled. And you'll also get a text message with a tracking link when your plants are out for delivery and on arrival.

Shipping in a Box

All Provinces

All of our 7" and smaller size plants and planters are now available to ship in a box across all provinces in Canada: Alberta, British Columbia, Manitoba, New Brunswick, Newfoundland and Labrador, Nova Scotia, Ontario, Prince Edward Island, Quebec, and Saskatchewan.**

We post our mails on Mondays, the cut off time is Saturday midnight, order placed after that will ship out on the Monday after, so please keep that in mind when you place your order. We do this to avoid the order sitting in a post office over the weekend, however, this may still happen from time to time. To prepare an order, we pack up the plants with great care, ensuring as much as possible that they will have a secure and smooth delivery. Once you receive your tracking link from Canada Post, the delivery will all be based on their projected timelines.

All Territories

Delivery Standards for Remote Areas

If the destination postal code is located in a remote area, Canada Post may add up to 5 business days, in addition to the posted delivery time. Generally, if your postal code has a 0 (zero) in the first half, ie, A[0]E 3B0, additional time may be added by Canada Post. Exceptions may apply. For additional information, please visit here.

Cold Weather Protection

Complimentary heat packs and insulations are included to protect your plants from cold damage if shipped in a box, if weather requires. Some stresses are expected, but with good light and proper watering, they will bounce back very soon.
Packed with care, we check the destination weather for each package to make sure they arrive safely with whatever it takes. We may hold off on your order if there are extreme cold weather conditions.

Complimentary heat packs and insulations are included to protect your plants from cold damage if shipped in a box, if weather requires. Some stresses are always expected when ship a plant, but with good light and proper watering, they will bounce back very soon.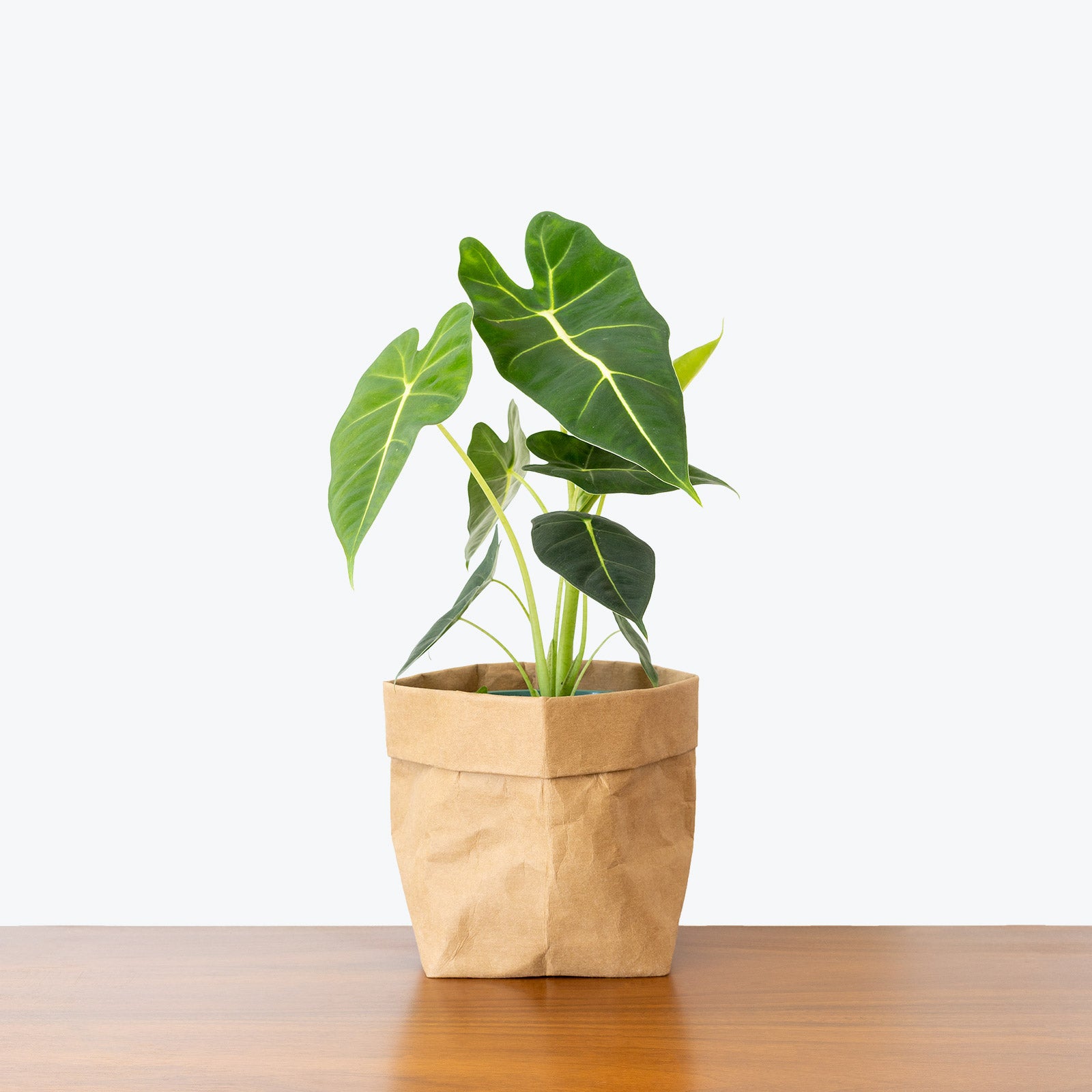 Alocasia Frydek
Sale price

$15
Regular price
Choose options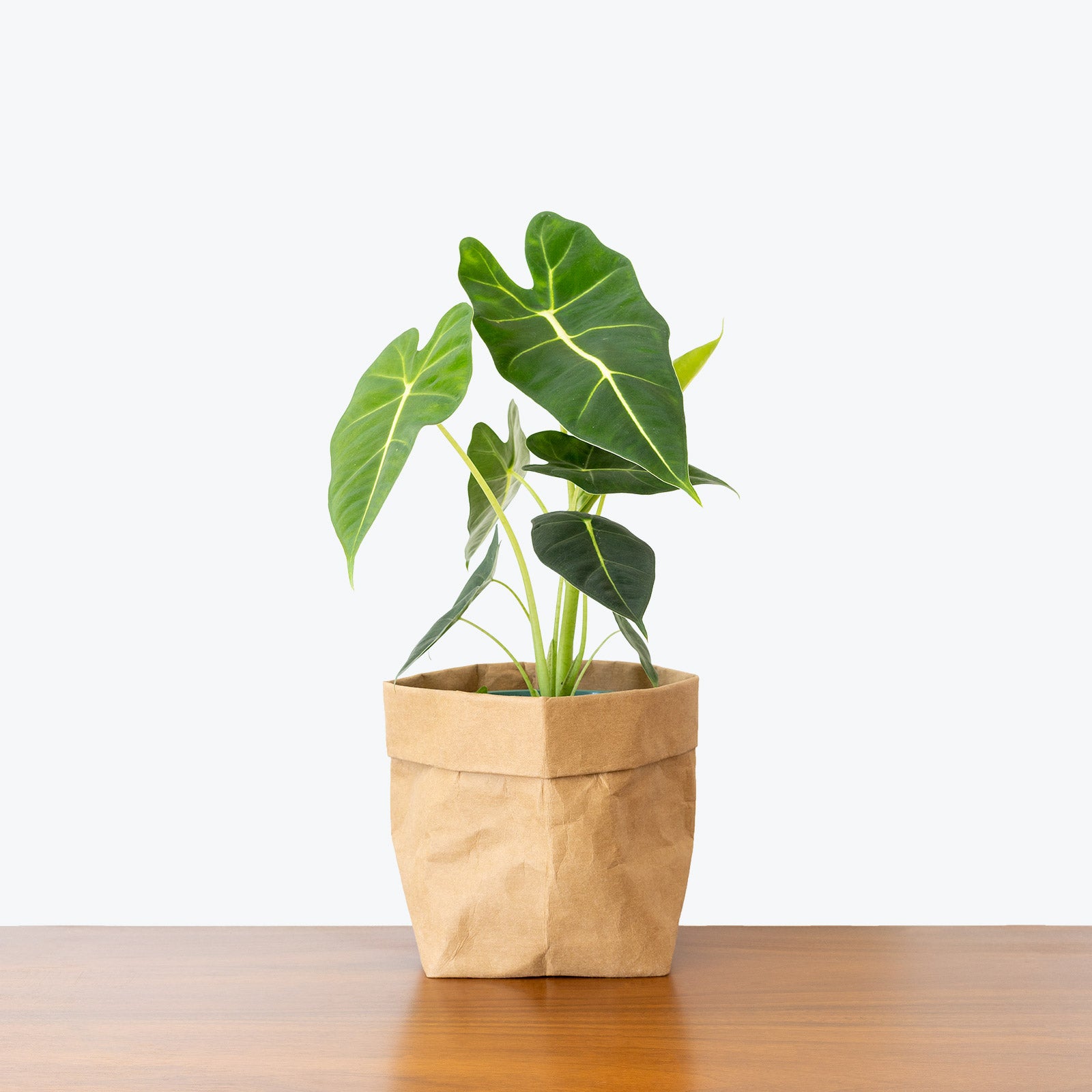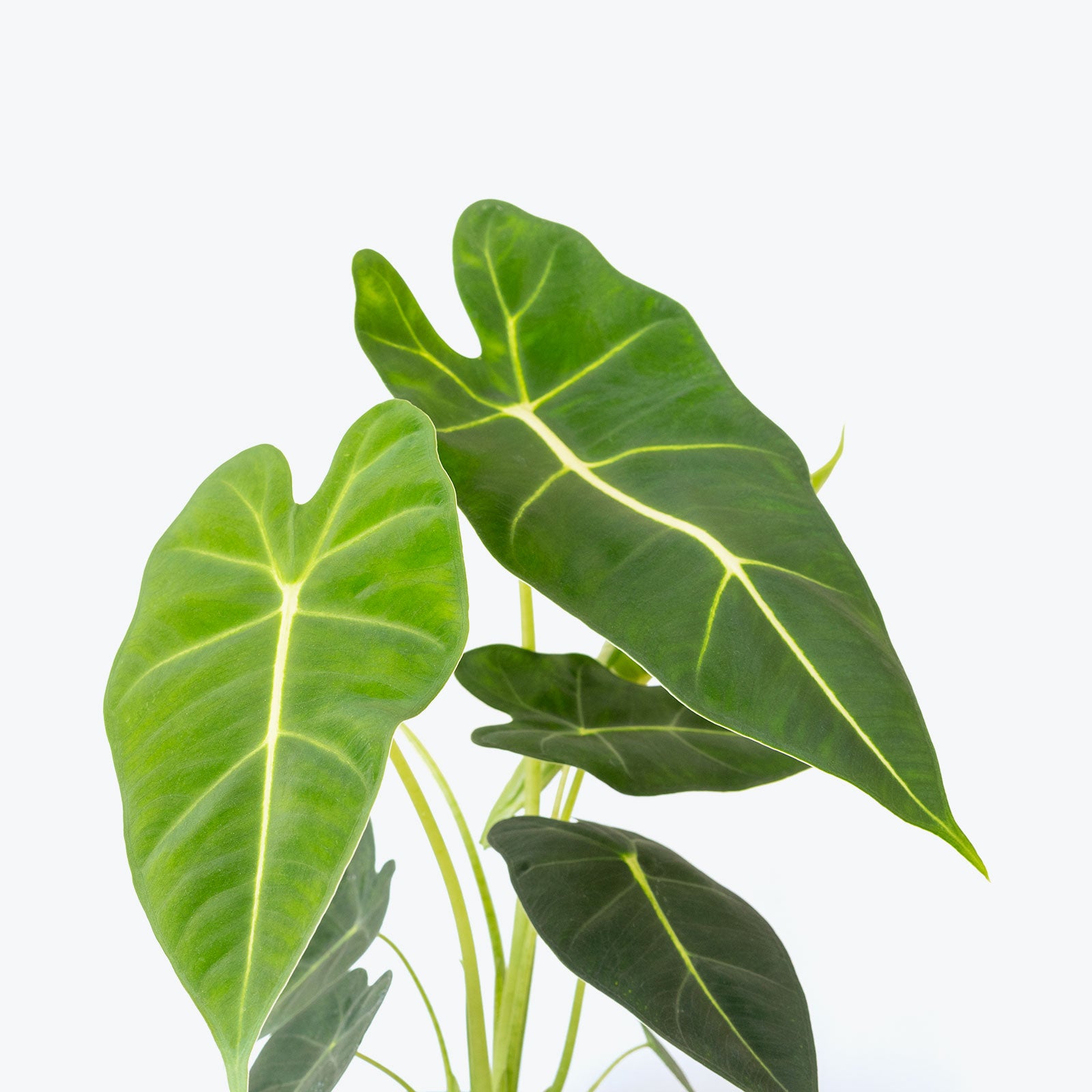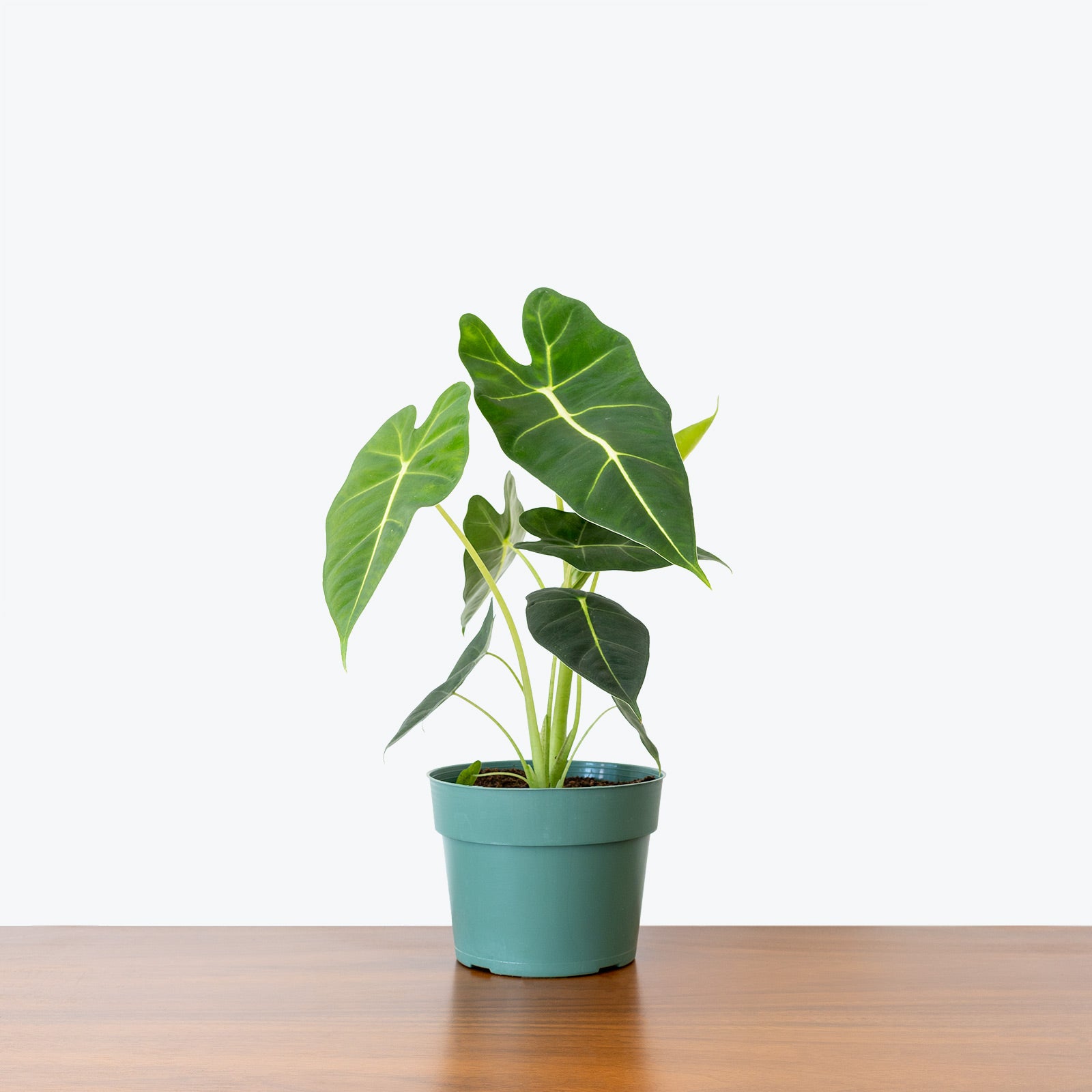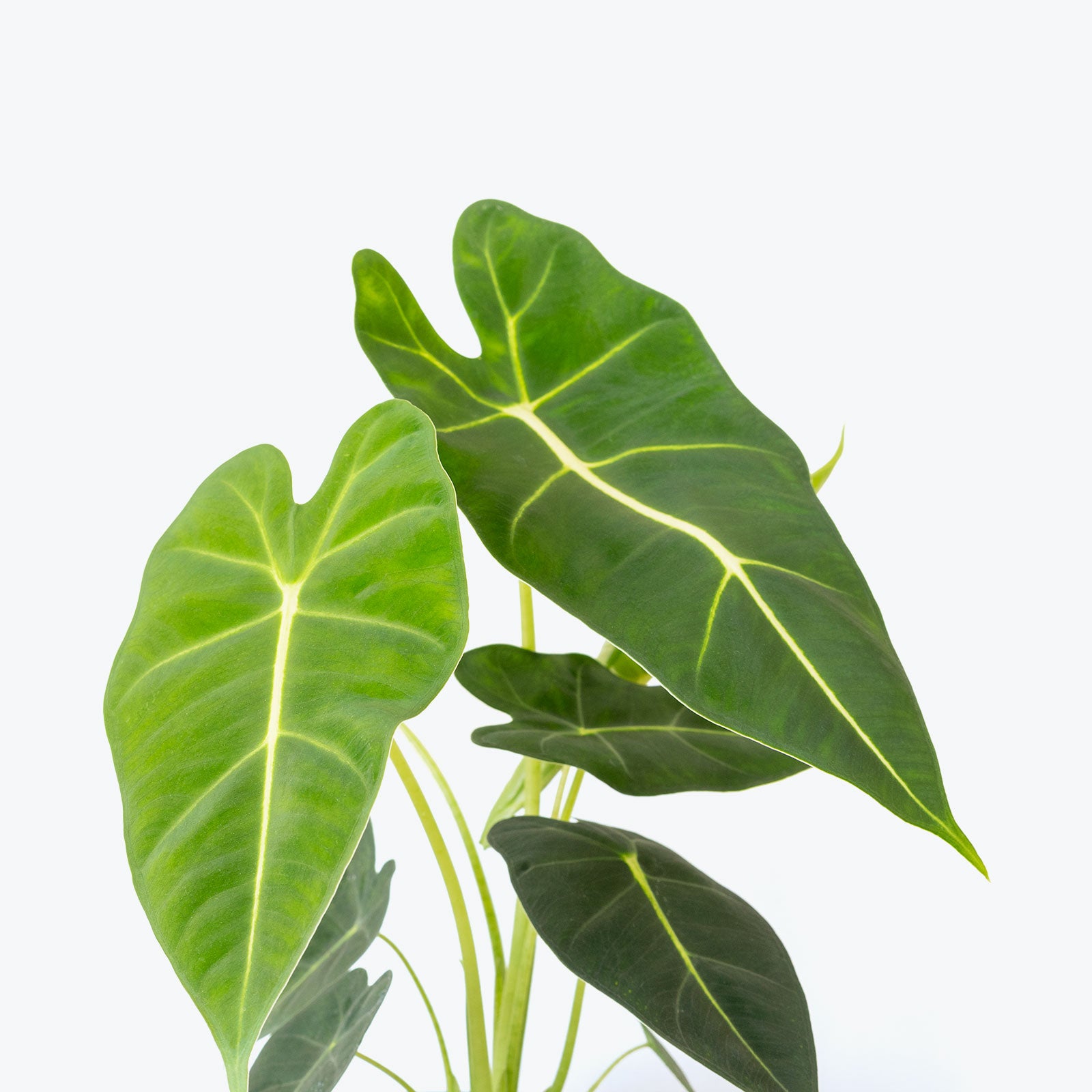 Care Guide
How to take care of Alocasia Frydek
Alocasia Frydek should not be in a position to see the sun directly, although early morning or late evening sun is fine. Filtered sunlight through a sheer curtain is best and most homes are comprised primarily of indirect sunlight. The best spot for them is where they do not see the sun during the majority of the day but still get bright, indirect light.
Alocasia Frydek will thrive in bright light, but also can tolerate medium light. A good medium-light place in your home would be in the middle of a room that has a regular size window. They can be placed anywhere between the middle of the room and the window. Remember that plants will grow based on how much light they receive.
Alocasia Frydek needs to be watered when the top half of the soil is dry to the touch. That usually takes about 1 week in an average home environment. It will vary depending on the time of year, your environment and lighting conditions, but it's always safer to underwater or give the soil a check before you water again.
Alocasia Frydek likes a high humidity environment, give them a mist daily or as often as possible. Alternatively, you can put them around a humidifier. Although they won't die if they don't receive enough humidity, their leaves may have some dry, crunchy, or yellow edges.
Alocasia Frydek is moderately toxic and can cause some adverse reactions when ingested so it is best to not let your pets eat it, which we advise for all plants in general. The severity of the reaction will depend on how much of the plant is ingested but, if you know your pet typically does not eat your plants, this plant will be suitable for your home.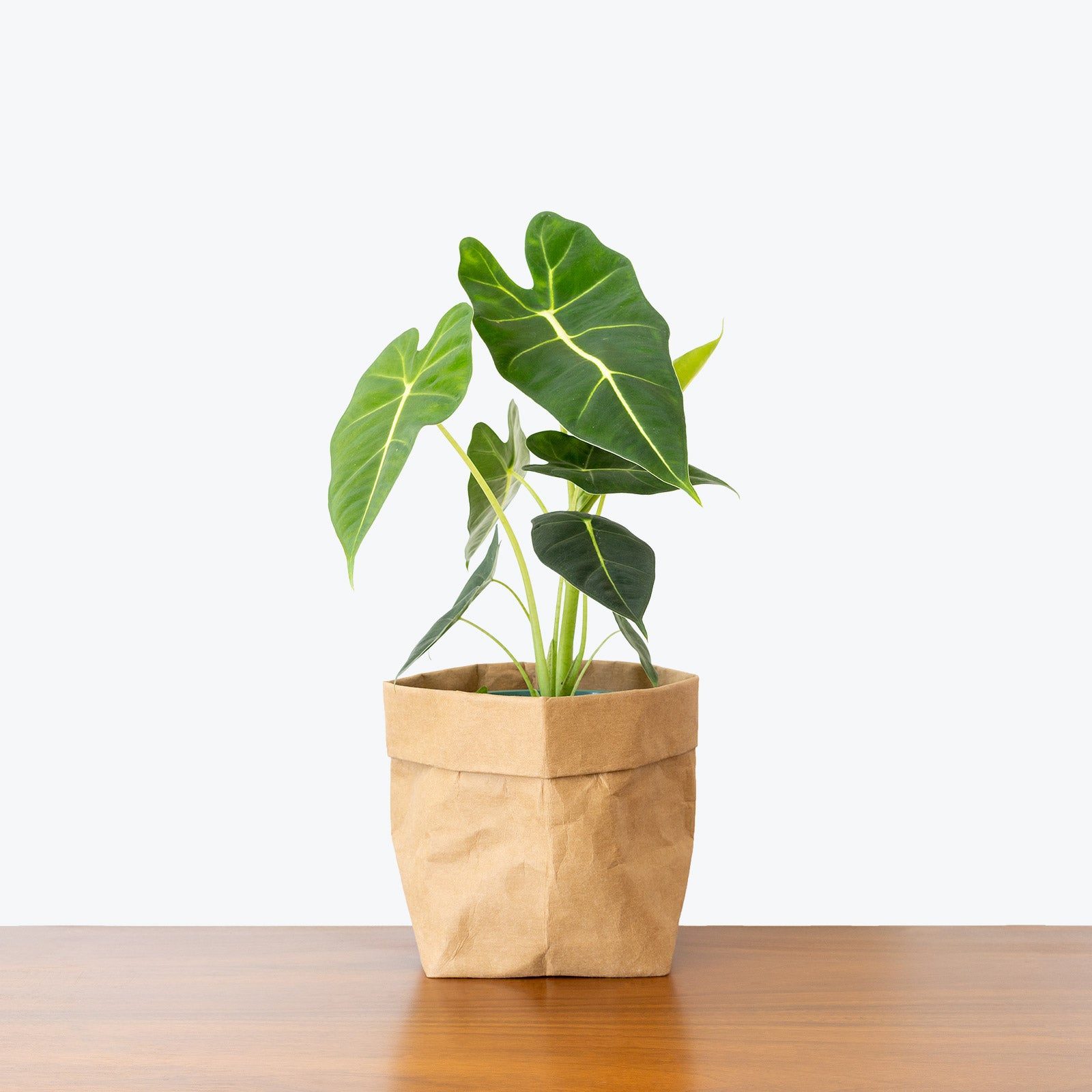 Plant Bio
About Alocasia Frydek
Introducing the Alocasia Frydek, a striking and elegant houseplant that not only enhances the aesthetic of any indoor space but also symbolizes the beauty of uniqueness and the richness of nature's design.

The Alocasia Frydek, part of the diverse Alocasia family, is particularly renowned for its lush, velvety leaves. These large, arrow-shaped leaves are a deep, vibrant green and are marked with bold, white veins that create a stunning visual contrast. This dramatic and somewhat theatrical appearance makes the Frydek a favourite among plant enthusiasts and interior decorators alike, bringing a touch of the tropics and an element of dramatic flair to your home.

To care for your Alocasia Frydek, provide it with bright, indirect light. This level of illumination will help maintain the vibrancy of its foliage and encourage healthy growth. The plant's need for indirect light is a reminder of the importance of finding the right environment to flourish—one that provides support without being overwhelming.

When watering the Frydek, consistency is key. Keep the soil evenly moist, but be cautious to avoid waterlogging. The plant's preference for a balanced watering regimen teaches us the value of moderation and the need for a nurturing yet hands-off approach to growth.

The Alocasia Frydek is also known for its air-purifying qualities, making it not just a visually appealing addition but also a beneficial companion for your living space. It serves as a living testament to the symbiotic relationship between humans and plants, and the mutual benefits of coexisting with nature.

Welcome the Alocasia Frydek into your home, and let it be a living symbol of the elegance of nature, the beauty of unique design, and the joy of nurturing something truly special. It's not just a plant; it's a celebration of the intricate and awe-inspiring wonders of the natural world.