Location
JOMO Studio
21A Bathurst St
Toronto, ON
Group size
Up to 6 people
(Custom size available)
About your host, Mihail
Making candles runs in my family. My grandma used to make tapered candles for her church. I fondly remember sitting next to her, watching every candle being poured. I loved the smell of beeswax and was fascinated by the speed with which the wax turned solid.
During my early 20's, I worked for a luxury candle company in London and my love for candles has continued to evolve. After living in four different countries over the past ten years, I decided to call Canada my home in 2018 and at the same time, I began developing my own candle brand and teaching how to make candles with JOMO.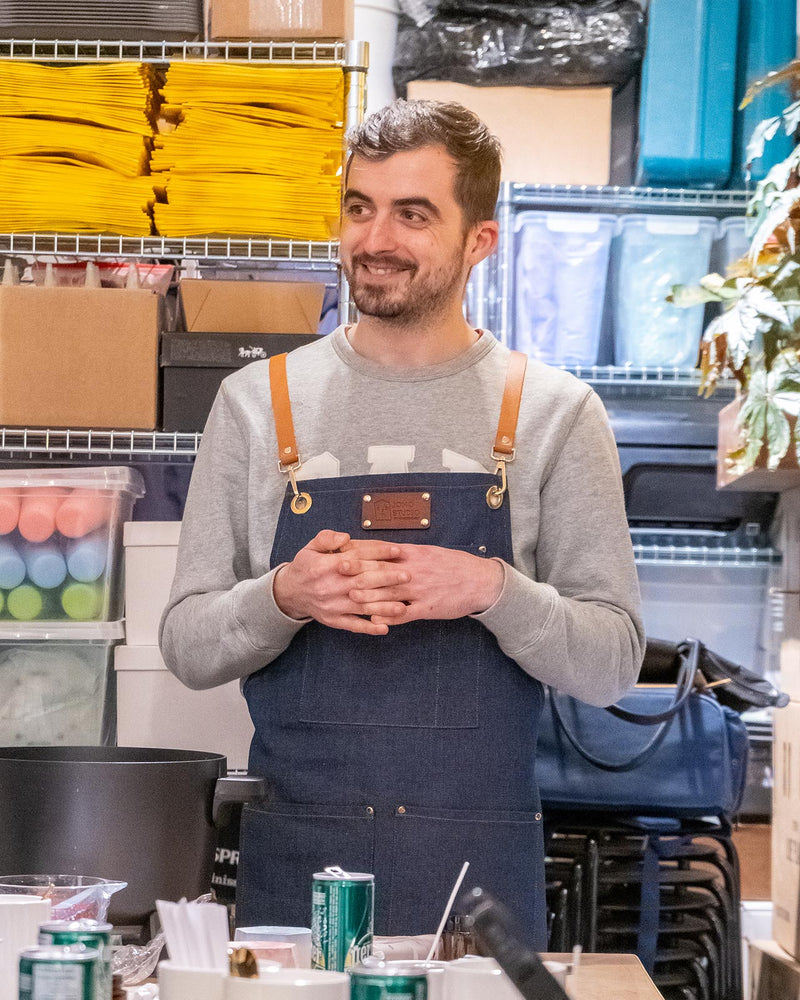 What we'll do
This is definitely not your average candle workshop! Enjoy a luxurious experience inside your own olfactory world. Guided by our expert candle maker, the workshop begins with an exploration of the artisan's curated collection of pure essential oils. You will choose one of our handmade, concrete pots and pour in your custom, one-of-a-kind scent! In the end, each guest will be able to bring the candle they made to home right away!
We start off by putting on an apron and safety glasses (as we will work with wax), review the materials and handling instructions, followed by an introduction to the tools and equipment, and then test out different fragrances to find the perfect combination that stirs beautiful memories, dreams and desires.
We will learn about the difference between different top notes, heart notes, and base notes. You'll be able to design and create a distinct fragrance that speaks to your personality. Warm, inviting, confident, refreshing, or sensual- your fragrance is sure to be a reflection of what you love, a marker of your mindset at this moment in time. Discover what you are truly drawn to. You can also try out some of our favourite fragrance recipes crafted from past guests.
After you have created your very own own fragrance we then get our hands on the wax part. We'll mix the fragrance and wax, and then learn how to pour them in to your concrete pot.
At the end, each guest will be able to bring the candle they made to home right away! And the concrete pot can be used as a cute planter after you are finished with your candle.
What else you should know
No matter your experience working with the materials, know that it's all about mix and match! You'll be surprised at how good you are at this. Also I'll be with you every step of the way!
What I'll provide
Drinks
Non-alcoholic drinks(Water, Sanpellegrino, Nespresso) will be provided during the workshop.
Equipment
PPE, fragrances, candle wax, candle wick, concrete pot, measure cup, and any other equipment we may use.
What to prepare
Aprons and safety glasses are supplied in the workshop, but it is suggested to avoid wearing clothes that you are afraid of getting slightly dirty, in the event of a spill or accident.
We recommend wearing comfortable clothes that does not have loose sleeves and closed-toe shoes.
Personalized experience
Private parties, corporate events, alternative locations/dates/times/group sizes can be accommodated upon request.
Please contact us at hi@jomostudio.com