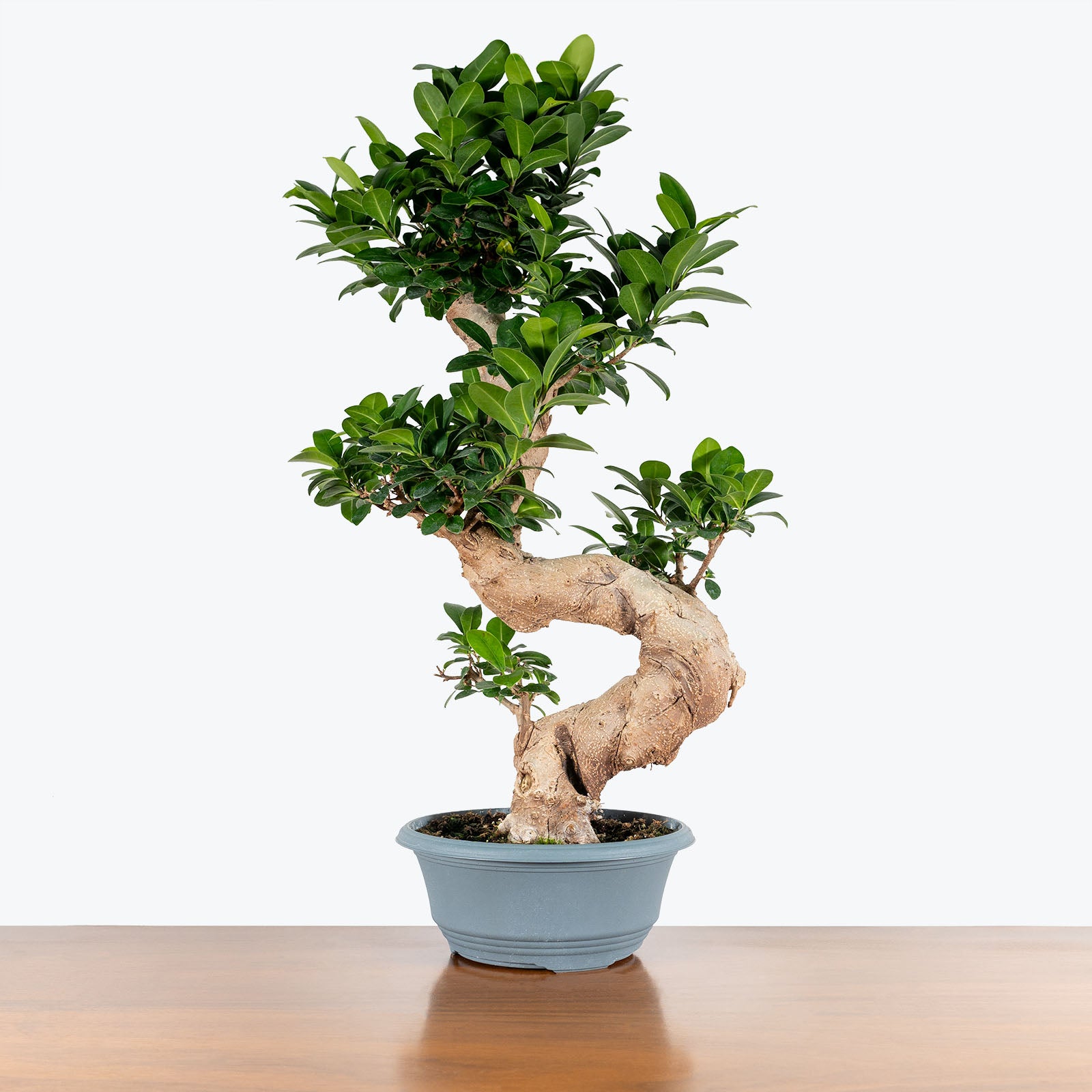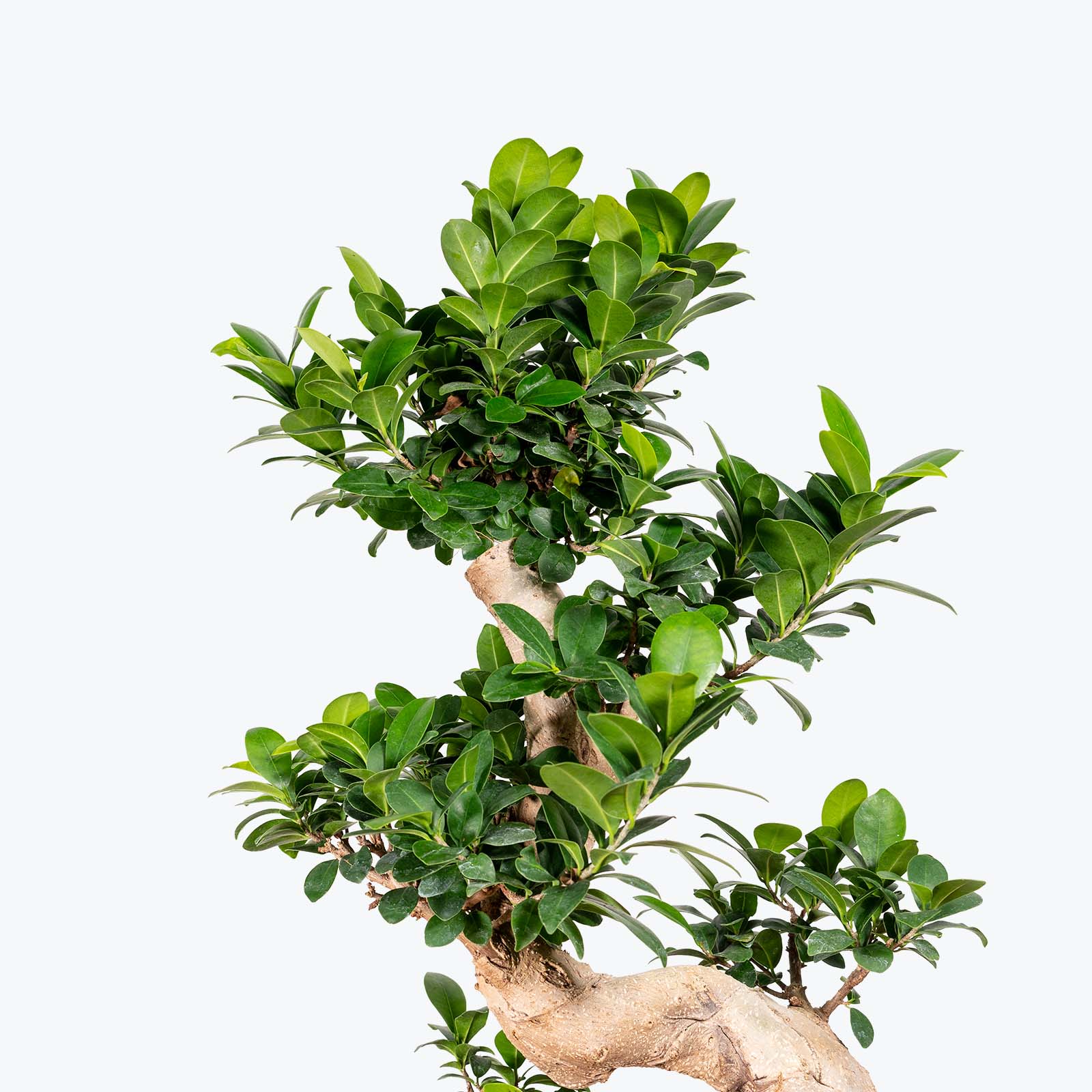 Ficus Retusa Bonsai
Sale price

$150
Regular price
(/)
Klarna
Plant now, pay later with 4 interest-free payments for orders above $10
Buy what you love and split the cost. It's easy and interest-free.
Add item(s) to your cart.
Go to checkout and choose
Enter your debit or credit card information.
Your first payment is taken when the order is processed and the remaining 3 are automatically taken every two weeks
Please note that a higher initial payment may be required for some purchases. Pay later in 4 terms available here. For Quebec residents these Pay later in 4 terms are applicable.
The Ficus Retusa Bonsai, renowned for its graceful S-shaped trunk and lush, evergreen leaves, is a popular choice among bonsai enthusiasts and interior decorators alike. Native to Southeast Asia, this particular bonsai variety is admired for its aesthetic appeal and relatively straightforward care requirements. The S-shape, meticulously crafted through wiring and careful pruning, adds a unique and artistic twist, making it a focal point in any space it adorns. Its glossy, dark green leaves and occasionally exposed roots give it a timeless, natural look, embodying both strength and elegance.
The plant comes with a default nursery pot. The nursery pot is usually 0.5" - 1" smaller than stated to fit into the same size decorative pot. Washable Paper Planter Bags are sold separately.

As with all living things, no two plants are alike. There is some natural variation in size, shape, and characteristics. We make every effort to bring you a plant that as closely as possible matches the plant as it appears on our website, in the size you have chosen, and have a good potential to happily grow in your home.
All of our deliveries are carbon neutral.

In store shopping and free local pick up available at our store located at 21A Bathurst St, Toronto.

Free local delivery* available within City of Toronto and surrounding areas including Mississauga, Brampton, Vaughan, Richmond Hill, Markham, and Scarborough.

Shipping options are available for plants and planters that are 7" or smaller to all provinces in Canada.

Shipping

Local Pickup and Shop In-Store

Local pick up and shop in-store in Toronto

Local Delivery

Yellow: Toronto Delivery (Free over $75)

Yellow zone: Toronto Core. $15 for orders under $75. Free for orders over $75 before tax and after discount.
Usually delivered within 2 - 4 days excluding the purchase date. Delivery timelines subject to change during holidays.

Next day delivery is also available at checkout.
Order before 10 PM EST, deliver next day by end of the day (No deliveries on Monday).

Green: GTA Delivery (Free over $125)

Green zone: Oakville, Mississauga, Brampton, Vaughan, Richmond Hill, Markham, and Scarborough.
$15 for orders under $125. Free for orders over $125 before tax and after discount.
Usually delivered within 7 days excluding the purchase date. Delivery timelines subject to change during holidays.

Delivered with care

All of our plants are delivered by our human plant expert in person(contactless during COVID-19). We will send you a delivery confirmation once your delivery is scheduled. And you'll also get a text message with a tracking link when your plants are out for delivery and on arrival.

Shipping in a Box

All Provinces

All of our 7" and smaller size plants and planters are now available to ship in a box across all provinces in Canada: Alberta, British Columbia, Manitoba, New Brunswick, Newfoundland and Labrador, Nova Scotia, Ontario, Prince Edward Island, Quebec, and Saskatchewan.**

We post our mails on Mondays, the cut off time is Saturday midnight, order placed after that will ship out on the Monday after, so please keep that in mind when you place your order. We do this to avoid the order sitting in a post office over the weekend, however, this may still happen from time to time. To prepare an order, we pack up the plants with great care, ensuring as much as possible that they will have a secure and smooth delivery. Once you receive your tracking link from Canada Post, the delivery will all be based on their projected timelines.

All Territories

Delivery Standards for Remote Areas

If the destination postal code is located in a remote area, Canada Post may add up to 5 business days, in addition to the posted delivery time. Generally, if your postal code has a 0 (zero) in the first half, ie, A[0]E 3B0, additional time may be added by Canada Post. Exceptions may apply. For additional information, please visit here.

Cold Weather Protection

Complimentary heat packs and insulations are included to protect your plants from cold damage if shipped in a box, if weather requires. Some stresses are expected, but with good light and proper watering, they will bounce back very soon.
Packed with care, we check the destination weather for each package to make sure they arrive safely with whatever it takes. We may hold off on your order if there are extreme cold weather conditions.

Complimentary heat packs and insulations are included to protect your plants from cold damage if shipped in a box, if weather requires. Some stresses are always expected when ship a plant, but with good light and proper watering, they will bounce back very soon.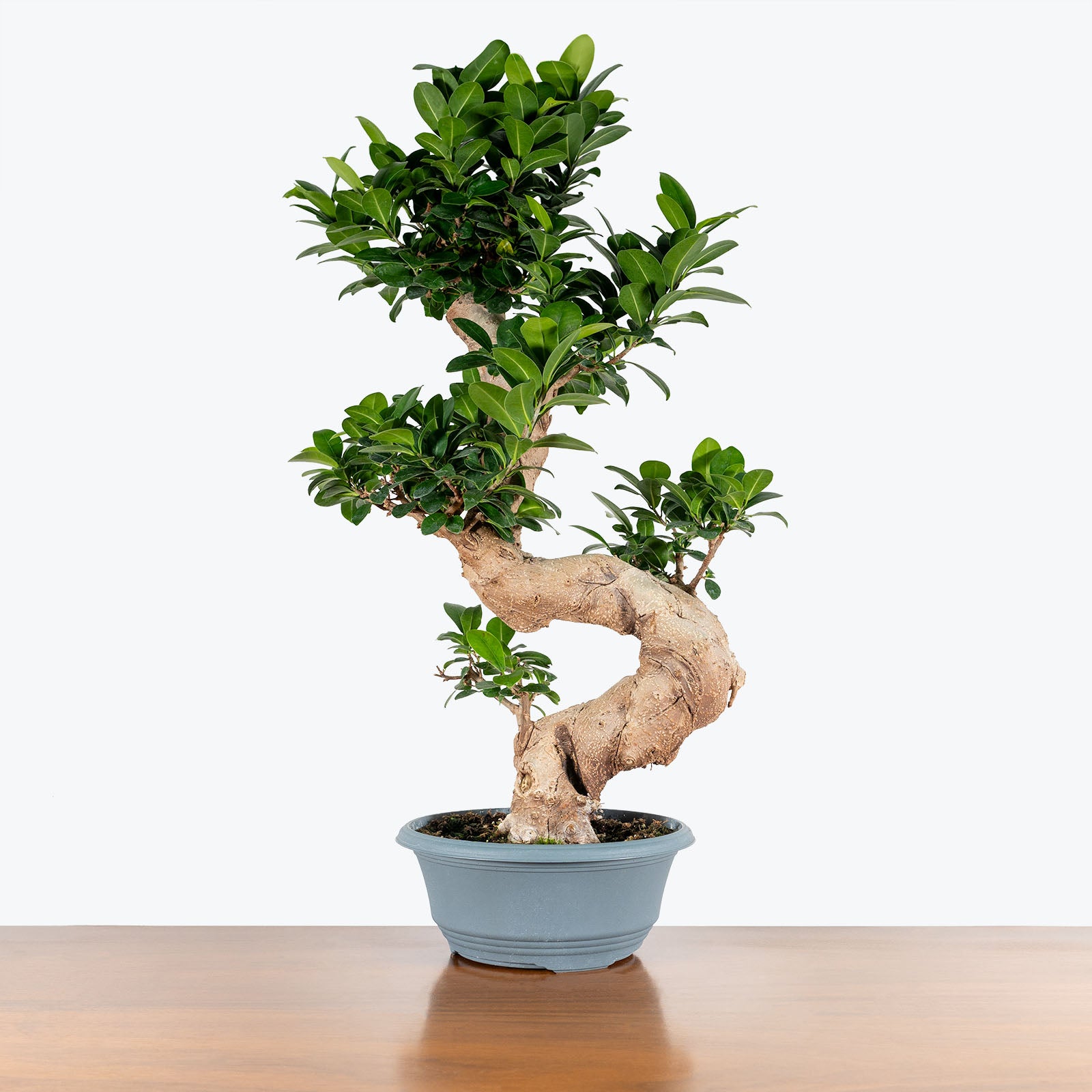 Ficus Retusa Bonsai
Sale price

$150
Regular price
Choose options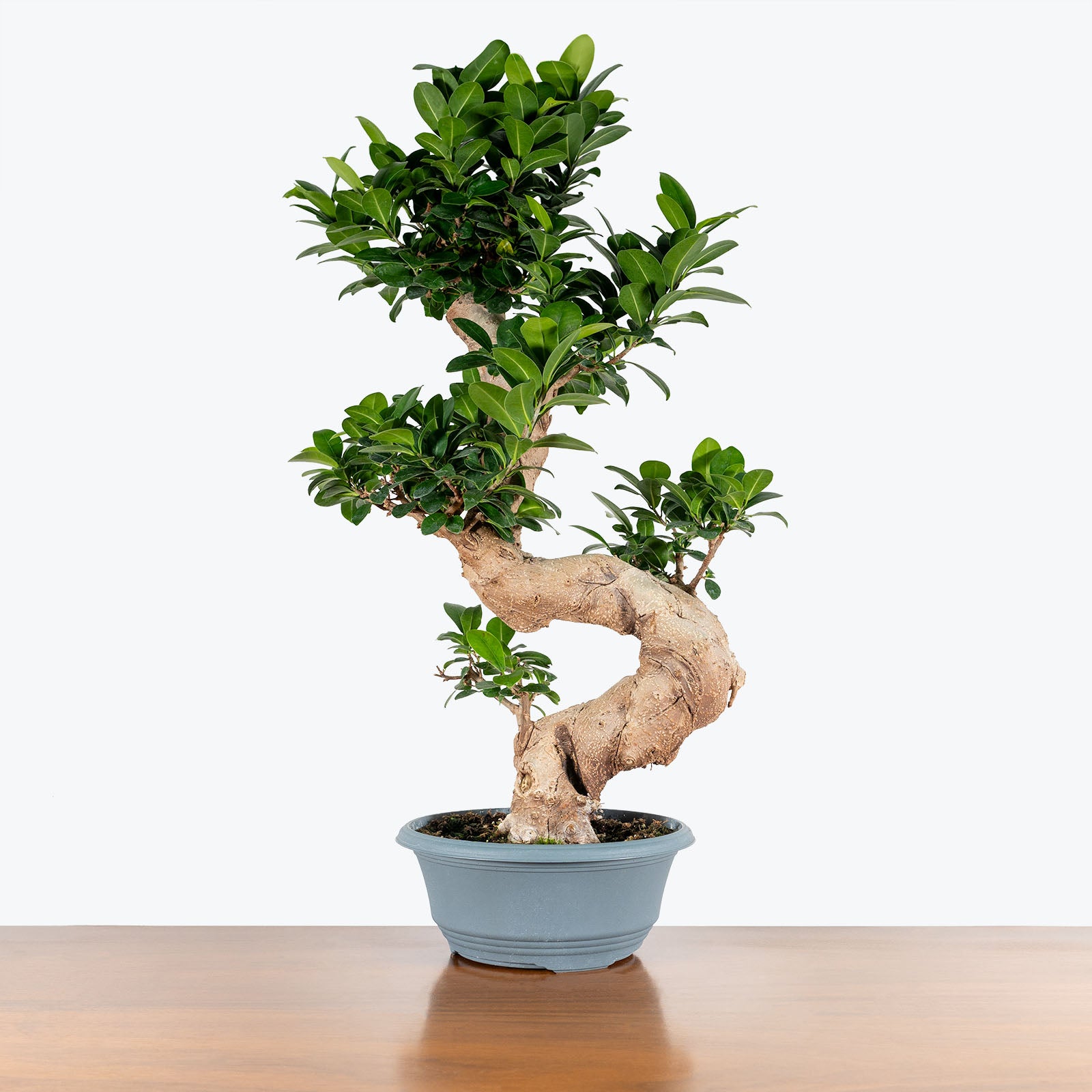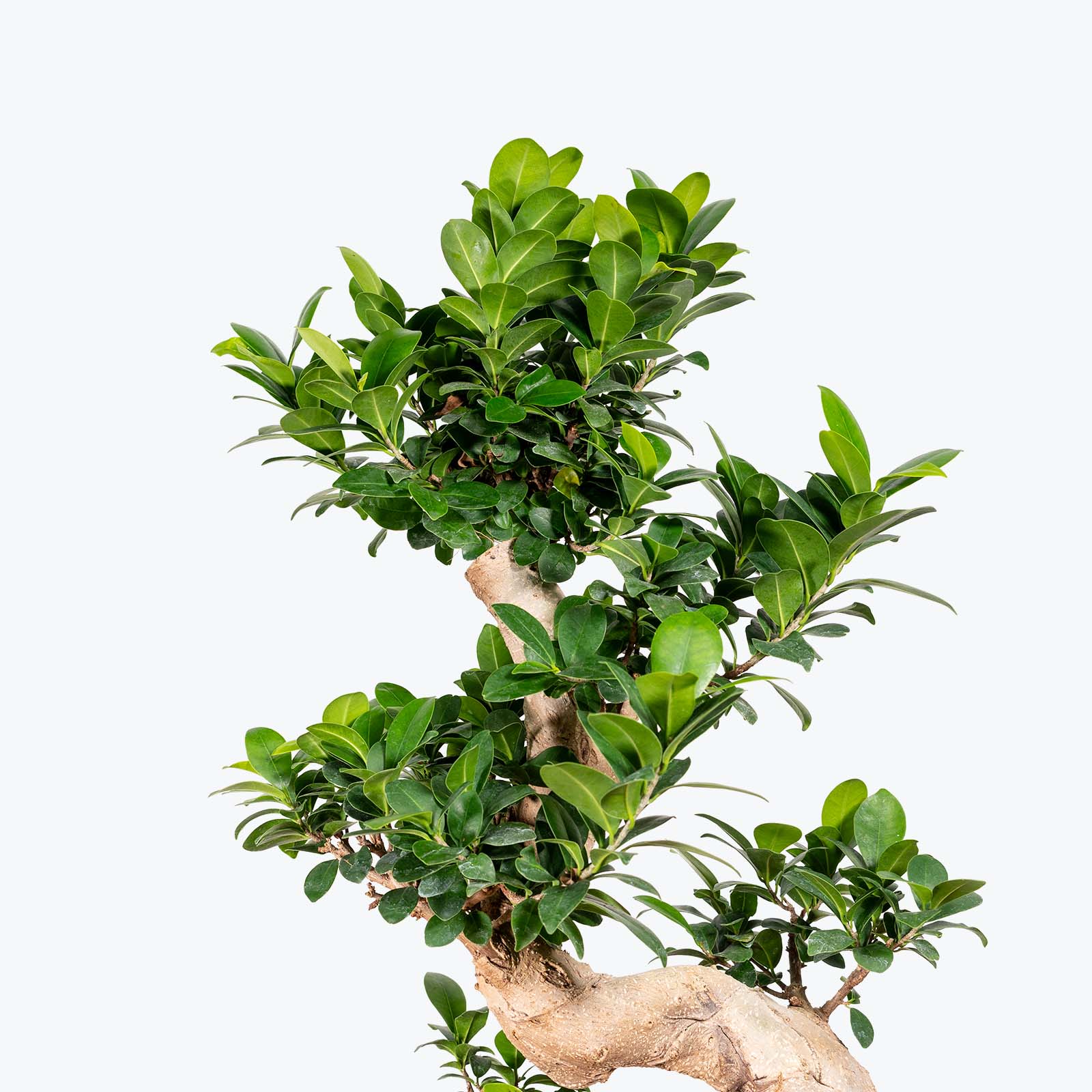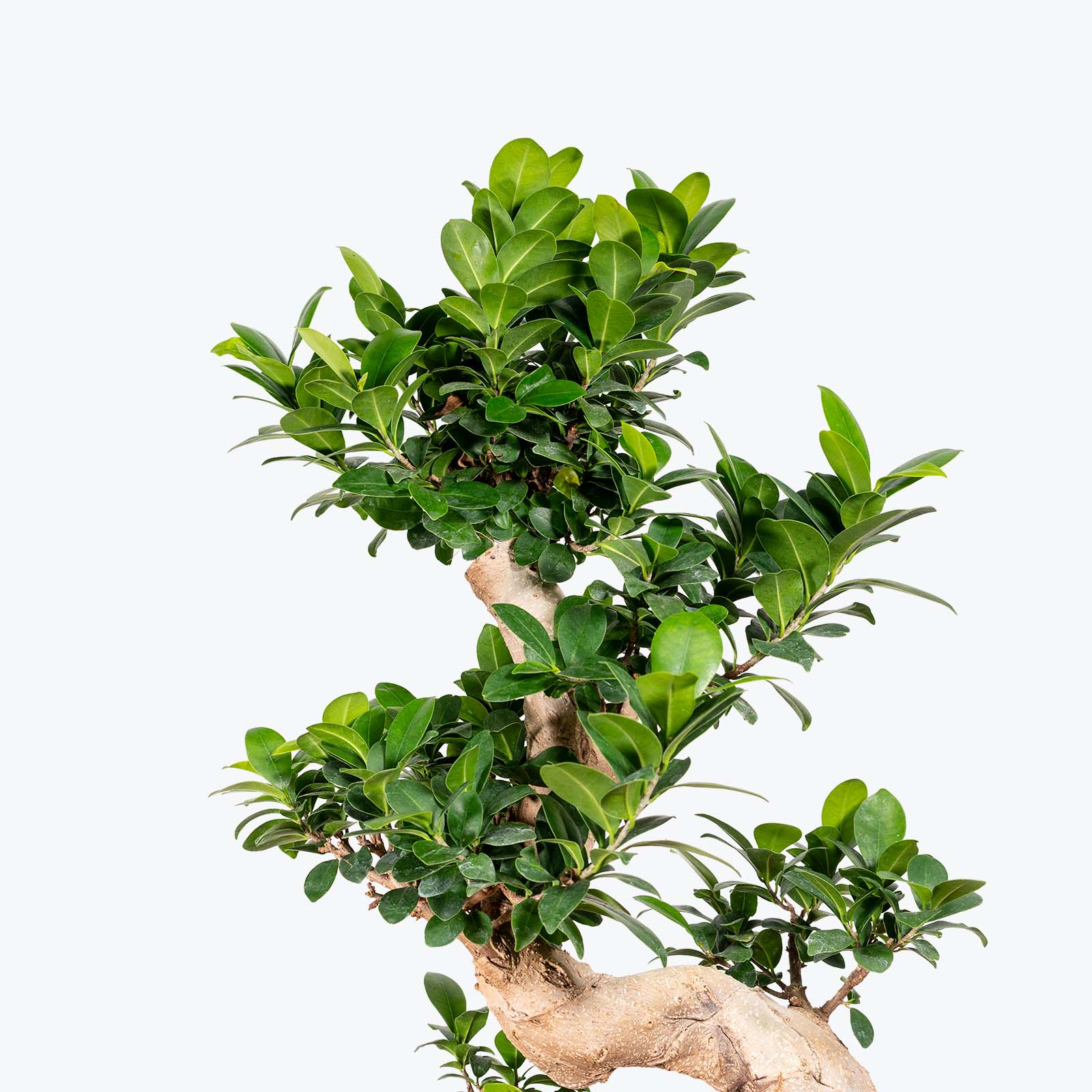 Care Guide
How to take care of Ficus Retusa Bonsai
They should not be in a position to see the sun directly, although early morning or late evening sun is fine. Filtered sunlight through a sheer curtain is best and most homes are comprised primarily of indirect sunlight. The best spot for them is where they do not see the sun during the majority of the day but still get bright, indirect light.
They will do best in bright light. A nice bright place inside your home would be on the window sill or a stool that is right next to a window, either with or without blinds, depending on if the plant can handle sun. Remember that plants will grow based on how much light they receive.
They need to be watered when the top half of the soil is dry to the touch. That usually takes about 1 week in an average home environment. It will vary depending on the time of year, your environment and lighting conditions, but it's always safer to underwater or give the soil a check before you water again. Expect to water more often in brighter light and less often in lower light.
They like a high humidity environment, give them a mist daily or as often as possible. Alternatively, you can put them around a humidifier. Although they won't die if they don't receive enough humidity, their leaves may have some dry, crunchy, or yellow edges.
This plant is moderately toxic and can cause some adverse reactions when ingested so it is best to not let your pets eat it, which we advise for all plants in general. The severity of the reaction will depend on how much of the plant is ingested but, if you know your pet typically does not eat your plants, this plant will be suitable for your home.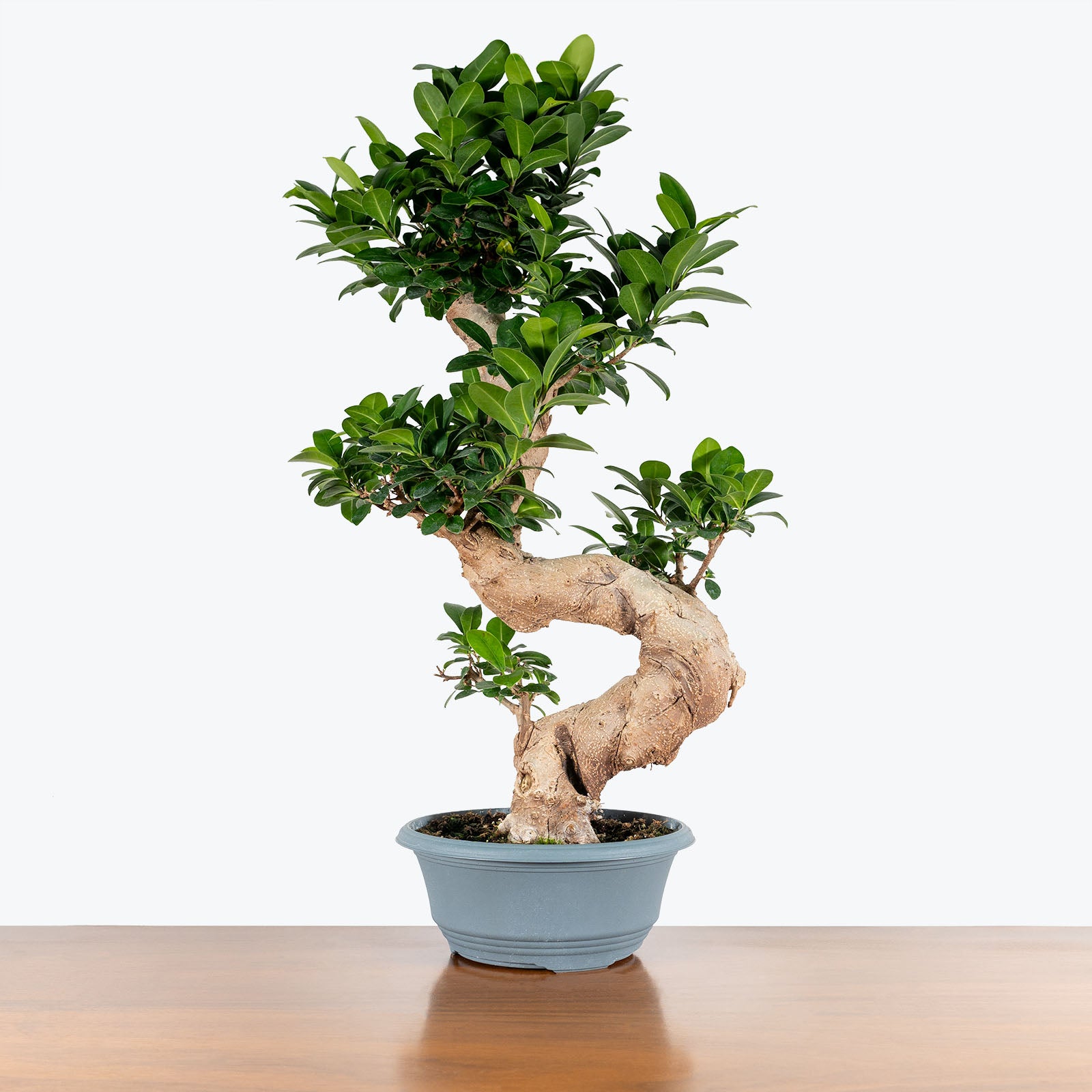 Plant Bio
About Ficus Retusa Bonsai
Introducing the Ficus Retusa Bonsai, an emblem of timeless artistry and nature's profound wisdom, encapsulated within a miniature world.

The Ficus Retusa Bonsai, with its gnarled trunk and canopy of delicate leaves, serves as a living testament to the passage of time and the beauty of endurance. This bonsai, crafted through meticulous care and patience, speaks of the harmony between humans and nature, and the deep reverence for life's journey. Its very form stands as a symbol of perseverance, resilience, and the transformative power of time.

To let this living sculpture truly resonate with its ancient spirit, place it in a spot where it receives bright, indirect sunlight. As the light plays on its leaves and casts shadows along its contoured trunk, the bonsai becomes a moving meditation, urging introspection and a deeper connection with the world around us.

Watering the Ficus Retusa Bonsai requires a thoughtful touch—maintain a balance, ensuring the soil remains moderately moist but not saturated. Its care reminds us of the delicate equilibrium of life, and the importance of intention in every action.

As your Ficus Retusa Bonsai grows, albeit subtly, its ever-evolving form will continue to tell tales of ageless wisdom, persistence, and the dance between strength and vulnerability.

Welcome the Ficus Retusa Bonsai into your space, and let its quiet majesty inspire you. It's not just a plant; it's a profound narrative of life's cycles, the beauty of endurance, and the deep lessons embedded in nature's rhythms.