Location
JOMO Studio
21A Bathurst St
Toronto, ON
You'll Get
Planter × 1
Houseplant × 1
Care Card x 1
About your hosts and space
Step into JOMO Studio, where the air is rich with the scent of greenery and the spirit of joy. Here, in our lush plant shop at 21A Bathurst Street, you'll find a sanctuary that invites you to leave the world behind and immerse yourself in the serenity of nature. This is not just a space; it's an experience – one that embodies the philosophy of finding happiness in the little things and embracing the joy of missing out on the everyday hustle.
But what makes JOMO Studio truly special are the people who breathe life into it – your hosts. They are not just plant enthusiasts; they are guardians of the green, curators of calm, and experts in the botanical realm. With years of experience tending to over 700 types of plants and having nurtured hundreds of thousands of them, our hosts possess a treasure trove of knowledge. Their hands have felt the soil, and their hearts have felt the joy that each plant brings. Their passion is palpable, and their dedication to spreading the joy of houseplants is what makes them not just hosts but guides on your botanical journey.
As you engage in the workshop, you'll feel as though you are forest bathing within the city. The leaves whisper stories, the pots and tools feel like extensions of nature, and as you learn and create, you are enveloped in an atmosphere that is both tranquil and invigorating. Your hosts will be there, guiding you, sharing their wisdom, and celebrating the beauty of plants with you.
At JOMO Studio, you don't just attend a workshop; you become a part of a community that values the simple, natural wonders of life. It's here that you'll find your green sanctuary, and hosts who are eager to share it with you. Learn more about our story here.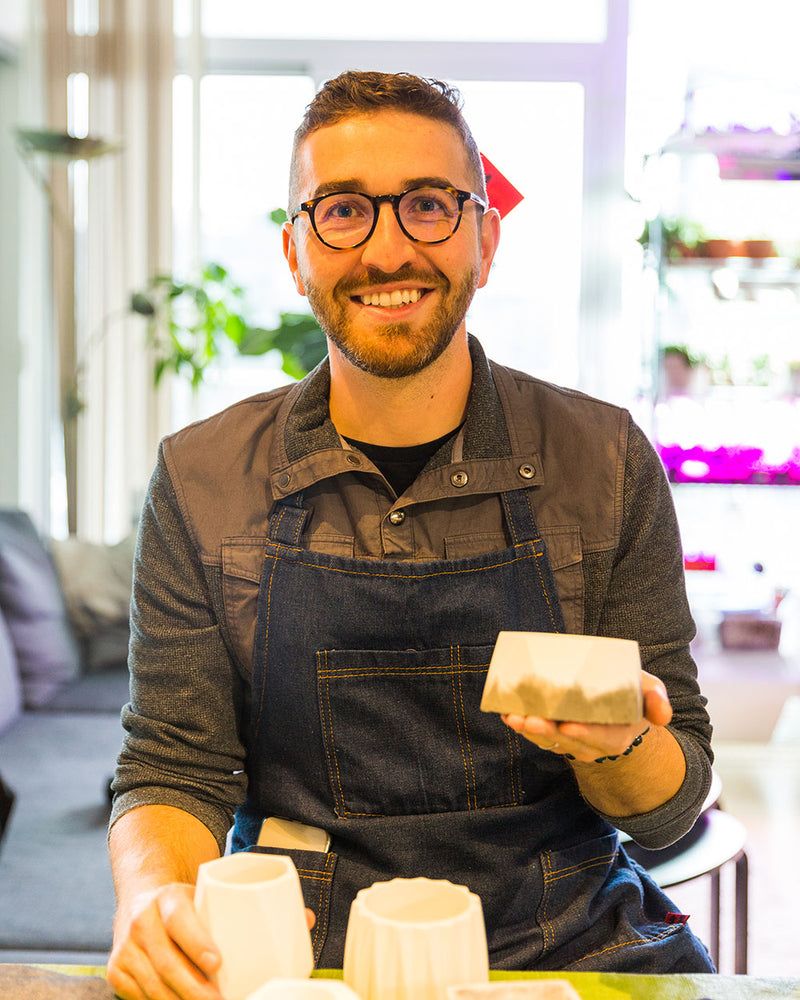 What we'll do
Imagine stepping into a botanical haven as you join us for the enthralling Houseplant 101 Workshop! Your senses are greeted by the lush greenery and the earthy aroma of plants. The adventure begins as you get to hand-pick your very own 4" houseplant from a diverse selection, including pet-friendly, high light, low light, easy care, and drought-tolerant options.

But the excitement doesn't stop there! You'll also get to choose the perfect planter from JOMO's exclusive collection of in-house 3D printed planters. These stylish and unique planters are designed with love and precision, ensuring that your plant not only thrives but does so in style.

One of the highlights of this workshop is the personalized guidance you'll receive in matching the right plant to your environment. Our expert hosts will help you understand the specific needs of different plants and assist you in selecting the one that will thrive in the particular space you have in mind at home. This ensures not only the well-being of the plant but also adds a touch of nature that is harmonious with your living space.

With your green companion and exclusive planter in hand, the heart of the journey unfolds. Our expert guides will be with you every step of the way as you engage in the delicate art of repotting. Feel the connection with nature as you gently repot the plant into its new home, taking special care to keep the rootball intact.

Experience the joy of using our in-house premium potting soil, specially formulated to give your plant the nutrients it needs. And guess what? You'll be wielding our mini gardening tool kits, which will aid you in the process and make you feel like a true botanist!

As the workshop progresses, our hosts will review the unique care requirements corresponding to the plant you've chosen. This invaluable knowledge will equip you with the confidence and skills needed to tend to your plant.

As you near the completion of this botanical endeavor, a duster is at your disposal to gracefully remove any soil or debris, giving your creation a polished look.

Before you leave, there will be a final review of the plant care to ensure that you are well-prepared to nurture your new green companion. Our hosts are dedicated to empowering you with the knowledge, confidence, and skills to tend to your plant.

There, in front of you, is not just a potted houseplant, but a symbol of growth, learning, and the nurturing spirit you've cultivated through the Houseplant 101 Workshop.
What else you should know
Whether you're just beginning to nurture your inner houseplant parenthood or already have a flourishing love for plants, this immersive workshop is tailored to empower you with the core skills of repotting and tending to succulents. What's more, the expertise you gain here will seamlessly translate to caring for a wide array of houseplants.
A Novel Adventure: This is the ideal escapade for those seeking to venture into new territories or commemorate a momentous occasion in a distinctive way.
Enriching Knowledge: Equip yourself with invaluable insights that will serve as the bedrock for cultivating a thriving indoor jungle.
Community Building: This is not just a workshop; it's a rendezvous for plant aficionados to forge connections and revel in shared passions, be it with friends, family, or newfound acquaintances.
Soul-Soothing: The act of interacting with plants is akin to a balm for the soul, proven to alleviate stress and elevate one's spirits.
More details:
- Guests can cancel up to 7 days before the workshop start time for a full refund, or within 24 hours of booking as long as the booking is made more than 48 hours before the start time.
- Metered parking is available on Housey Street and neighbouring streets.
- Guests will be standing at a raised working table during the workshop, but seats are available in the space for those who need a rest.
For more pictures of the workshop and our beautiful space, follow us on Instagram @jomostudio.
What we'll provide
Drinks
Non-alcoholic drinks (water, Sanpellegrino, Nespresso) will be provided during the workshop.
Equipment
PPE, mini gardening tool kit, soil, planter & a houseplant.
What to prepare
Aprons and gloves are supplied in the workshop, but it is suggested to avoid wearing clothes that you are afraid of getting slightly dirty, in the event of a spill or accident.
You are able to purchase other houseplants, succulents, planters, tool sets, and concrete goods as well.
Personalized experience
Private parties, corporate events, alternative locations/dates/times/group sizes can be accommodated upon request.
Please contact us at hi@jomostudio.com