Location
JOMO Studio
21A Bathurst St
Toronto, ON
Group size
Up to 8 people
(Custom size available)
About your host, Graham
I use my dental laboratory background making thousands of high precision pours and appliances for orthodontists along with my positive energy, artistic spirit and love for succulents to help you create your masterpiece. With tips and tricks of the trade, your concrete planter will look divine! Working with concrete, pigments and other fun materials are second nature to me!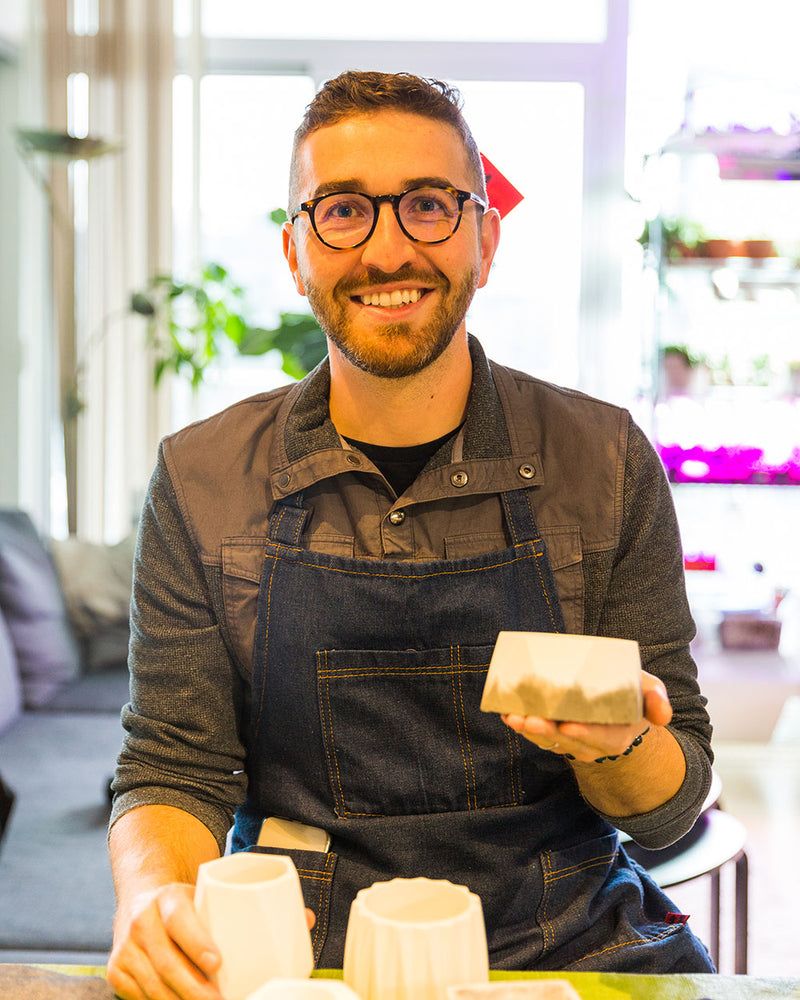 What we'll do
Together, we will create beautiful concrete coasters from scratch using silicone molds and a variety of concrete! At the end, each guest will have a pair (two) of awesome coasters that you have created! Let your imagination run wild!
We start off by putting on an apron and gloves (as we will work with concrete and pigment), review the materials and handling instructions, followed by an introduction to the tools and equipment, and then select from a variety of molds.
You have the option of traditional, minimalistic grey concrete or mixing it up by using a bone white concrete, perhaps adding a bit of colour pigment to it for a marbled or gradient look! I will guide you through the mixing and pouring stages along with the techniques needed to get your desired look.
After the concrete has set in 48 hours, I will finish your coasters with sanding, surface sealant and attach rubber feet to protect your table. If shipping is required, an additional fee will apply, based on your location.
What else you should know
No matter your experience working with the materials, know that there isn't anything a bit more powder or water can't fix! I'll be with you every step of the way. Mandarin offered evenings & weekends.
What I'll provide
Drinks
Non-alcoholic drinks(Water, Sanpellegrino, Nespresso) will be provided during the workshop.
Equipment
PPE, concrete mix, pigment, spatula, mixing bowl, oscillator, and the silicone molds.
What to prepare
Aprons and gloves are supplied in the workshop, but it is suggested to avoid wearing clothes that you are afraid of getting slightly dirty, in the event of a spill or accident.
You are able to purchase additional concrete planters, tool sets, succulents and concrete goods as well.
Personalized experience
Private parties, corporate events, alternative locations/dates/times/group sizes can be accommodated upon request.
Please contact us at hi@jomostudio.com